at gallery Spazio 57, Via Chiatamone, 57, Naples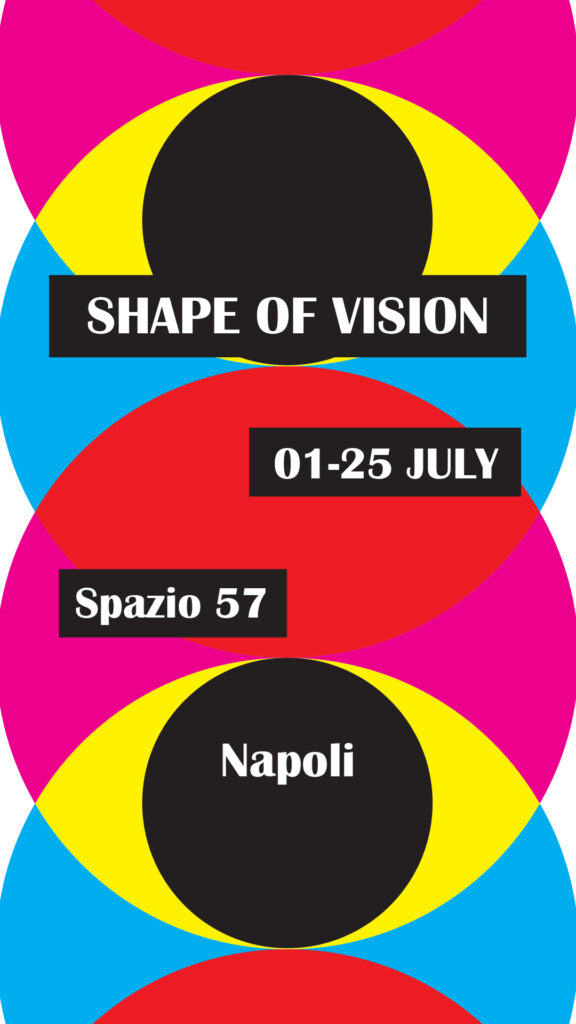 The international collective Shape of vision, organized by Nartwork aps, took place from 1st to 25th July 2023 in Naples, at gallery Spazio 57.
The show, which hosts 32 artists from 15 countries and has received the moral support of the Regione Campania, the Municipality of Naples, the University Suor Orsola Benincasa, and of the organization Alsob, was divided into two phases.
The first part from 1 to 11 July, the second part from 15 to 25 July.
As part of the cycle of exhibitions organized by Nartwork aps during 2023, which reflect on the relationship between duality and the whole, the collective exhibition Shape of Vision challenges the artists to explore the relationship between shape, color and vision.
Every shape and color has a distinct nature, but it is in their mutual interaction that something new is formed, whose meaning is more than the sum of its part. Shape of Vision is a two-act exhibition that guides the viewer to explore various imaginative scenarios of possibility. A two-stroke game that will fascinate thanks to the strength of shapes and colors.
The exhibition catalogue, which includes critical contributions by art historians Gianpasquale Greco and Maria Aurelia Catalano Rossi Danielli, is available online, as are their video contributions and interviews with the artists on the association's youtube facebook and instagram channels.
Exhibition graphic design by Antonio Imparato. Show display design by Giulio Bellan.
Art curators: Rossella Bellan, Giulia Mazzilli, Antonietta Panico.
Artists on display:
Sandra Bechtold (Germany), Lucia Boaghe (UK), Katja Bogataj – Unique Venus (Slovenia), Claudio Cangialosi (Italy), Justin Chan (China), Alessandro Di Porzio (Italy), Rika Maja Duevel (The Netherlands), Mario Formica (Italy), Ulla Hasen (Austria), Susanne Herrmann (Denmark), Inushima (Japan),Sou (Japan), Sonja Kalb (Germany), Rada Koleva-Genova (Italy), Alexandra Kordas (Germany), Lausen (Switzerland), Agata Lewandowska-Mista – agamista.art (Germany), Beata Murawska (Poland), Attila Olasz (Hungary), Atsushi Ohta (Japan), Helena Pellicer Ortiz (Spain), Elisabetta Pienti (USA), Weronika Raczynska (Poland), Markus Roth (Germany), Ariane Schuchardt (Germany), Veronika Sekotova (Czech Republic), Maria Carolina Terracciano (Italy), Enrica Toce (Italy), Tim van den Oudenhoven (Germany), Rebecca Volkmann (USA), Horst Weber (Germany), Ivo Zibulla (Germany).