presso Spazio 57, Via Chiatamone, 57, Napoli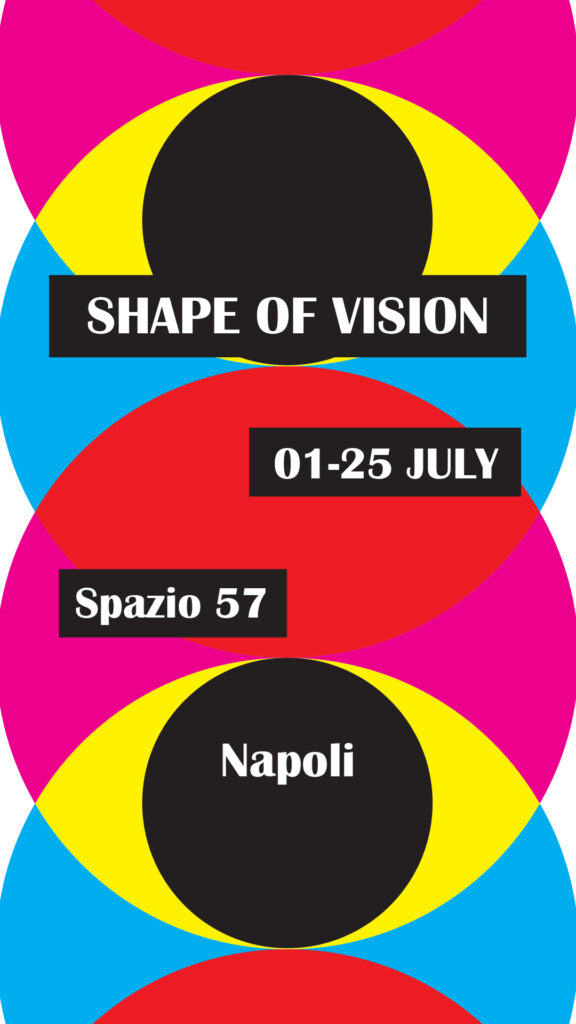 Si è svolta 1 al 25 luglio a Napoli la collettiva internazionale in due atti Shape of vision organizzata da Nartwork aps, presso la galleria d'arte contemporanea Spazio 57.
L'esposizione ha accolto le opere di 32 artisti da 15 paesi ed ha ricevuto il patrocinio morale della Regione Campania, dal Comune di Napoli, dell'Università Suor Orsola Benincasa e dell'Associazione Alsob.
La collettiva si è svolta in due atti, la prima parte dal 1 all'11 luglio, la seconda dal 15 al 25 luglio.
Nell'ambito del ciclo di mostre realizzate da Nartwork aps nel 2023, che riflettono sulla relazione tra dualità e l'intero, la collettiva Shape of vision sfida gli artisti a esplorare la relazione tra forma, colore e visione.
Ogni forma e ogni colore ha un proprio carattere, ma nel gioco dell'interazione creano qualcosa di nuovo, il cui significato non è solo la somma delle singole parti. Shape of vision è una mostra in due atti che guida lo spettatore a esplorare svariati scenari immaginativi di possibilità. Un gioco in due tempi per lasciarsi affascinare dalla forza delle forme e dei colori.
Il catalogo dell'esposizione, che accoglie i contributi critici degli storici dell'arte Gianpasquale Greco e Maria Aurelia Catalano Rossi Danielli, è disponibile online, come i loro contributi video e le interviste agli artisti sui canali youtube facebook e instagram dell'associazione.
Grafica a cura di Antonio Imparato. Progetto allestitivo a cura di Giulio Bellan.
Curatrici:Rossella Bellan, Giulia Mazzilli, Antonietta Panico
Artisti in mostra:
Sandra Bechtold (Germania), Lucia Boaghe (Regno Unito), Katja Bogataj – Unique Venus (Slovenia), Claudio Cangialosi (Italia), Justin Chan (Cina), Alessandro Di Porzio (Italia), Rika Maja Duevel (Paesi Bassi), Mario Formica (Italia), Ulla Hasen (Austria), Susanne Herrmann (Danimarca), Inushima (Giappone), Sou (Giappone), Sonja Kalb (Germania), Rada Koleva-Genova (Italia), Alexandra Kordas (Germania), Lausen (Svizzera), Agata Lewandowska-Mista – agamista.art (Germania), Beata Murawska (Polonia), Attila Olasz (Ungheria), Atsushi Ohta (Giappone), Helena Pellicer Ortiz (Spagna), Elisabetta Pienti (USA), Weronika Raczynska (Polonia), Markus Roth (Germania), Ariane Schuchardt (Germania), Veronika Sekotova (Repubblica Ceca), Maria Carolina Terracciano (Italia), Enrica Toce (Italia), Tim van den Oudenhoven (Germania), Rebecca Volkmann (USA), Horst Weber (Germania), Ivo Zibulla (Germania).