from 11 to 18 December 2021 at Dueunodue exhibition space, Bologna (Italy) International collective Dynamic correspondence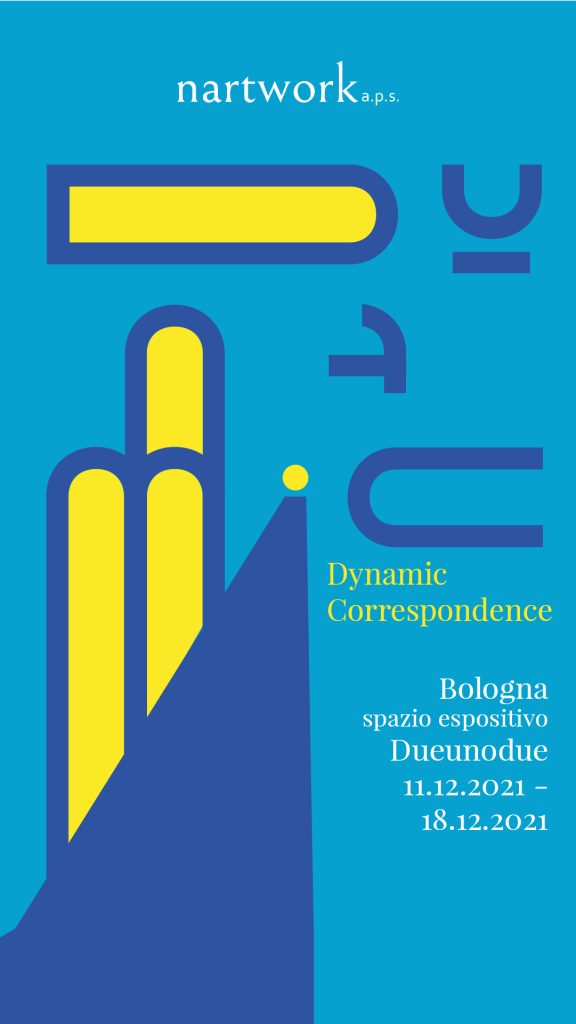 The collective Dynamic correspondence aims to create a dynamic dialogue between artist and viewer. The artist shows, through his work, a significant stage of his artistic path and gives the viewer the opportunity to recognize himself by finding the correspondences with his life path.
The show will be enriched with QR Codes that collect the artists' thoughts and reflections, to encourage this dynamic exchange of meanings and emotions between the artist and the visitor.
The exhibition welcomes works by 38 contemporary artists from 14 different countries, and runed from 11 to 18 December 2021.
The catalog curated by Nartwork, will be distributed free of charge to visitors, includes critical contributions by art historians Cristiana Cordova and Gianpasquale Greco. The graphic project is curated by Antonio Imparato; the exhibition project by Giulio Bellan.
The opening took place on Saturday 11 December 2021 at 6 PM and was streamed live on the facebook page of Nartwork aps.
Artists on display:
Marko Alabaster (United Kingdom), Marie Pierre Arpin (France), Claudio Barbugli (Italy), Laura Bruno (Italy), Erika Cadiz (Saudi Arabia), Caterina Caldora (Italy), Chiara Cinquemani (Italy), Alina Ciuciu (Italy), Giovanna Da Por Sulligi (Italy), Elisa Dottori (Italy), Eivor Ewalds (Finland), Paco Falco (Italy), Mario Formica (Italy), Monika Hartl (Austria), Elke Hubmann – Kniely (Austria), Inushima (Japan), JBG (Italy), Rada Koleva – Genova (Italy), Erich Kovar (Austria), Lausen (Swirtzeland), Elisabeth Lopez (United Kingdom), Taija Mäntylä (Finland), Alessandro Marini (Italy), Benita Martin (Germany), Maria Rita Onofri (Italy), Angelika Oberneder (Austria), Attila Olasz (Hungary), Alexandra Piras (Belgium), .Punto (France), Chris Rozitis (United Kingdom), Franca Sacchi (Italy), Tommaso Sacco (Italy), Kathy Stanley (USA), Alisa Teletovic (Bosnia and Herzegovina), Maria Carolina Terracciano (Italy), Rafa Tom (Canada), Rebecca Volkmann (USA), Claudia Werth (Germany).
Art curators: Rossella Bellan, Giulia Mazzilli, Antonietta Panico