From 19 to 26 March 2022, at Spazio SV – centro espositivo San Vidal, in Campo San Zaccaria, Venice.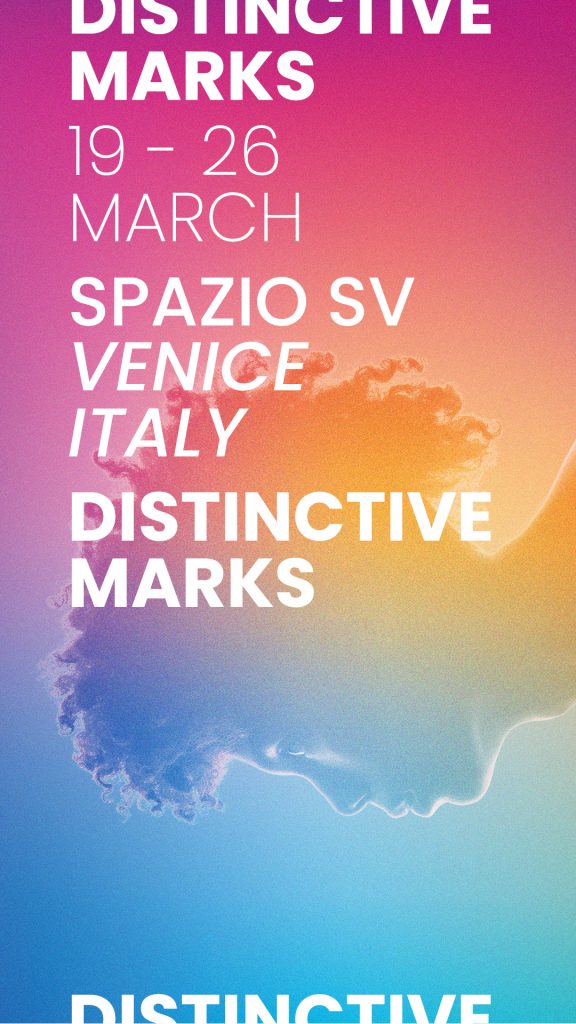 Distinctive Marks wants to be a praise to differences as a sign of wealth. A semiotic search for the true self, for that characterizing trait that leads us to say "I am". A journey into the variety that characterizes the beauty of reality, driven by curiosity for what emerges as peculiar and unique.
The international collective received 34 artists from 14 countries and received the moral patronage of Regione Veneto, Regione Campania and Suor Orsola Benincasa University.
The exhibition was enriched and made interactive by QR Code which collected the thoughts and reflections of the artists.
Visitors were given the exhibition catalog free of charge, curated by Nartwork a.p.s., with critical contributions from art historians Cristiana Cordova and Gianpasquale Greco. Graphics by Antonio Imparato. Exhibition project by Giulio Bellan.
The opening toke place on Saturday 19 March and was streamed live on Nartwork's facebook page.
Artists on display:
Marie Pierre Arpin (Germany), Claudio Barbugli (Italy), Yuri Bosetti (Italy), Erika Cadiz (Saudi Arabia), Caterina Caldora (Italy), Chiara Cinquemani (Italy), Paul Delanee (France), Elisa Dottori (Italy), Anna Eriksdotter (Sweden), Mario Formica (Italy), Alina Gane-Hurcomb (New Zealand), Ted Gillespie (USA),Nadine Giehl (Germany), Jörgen Hansson (Sweden), Monika Hartl (Austria), Elke Hubmann-Kniely (Austria), Inushima (Japan), JBG (Italy), Erich Kovar (Austria), Lausen (Switzerland), Elisabeth Lopez (United Kingdom), Attila Olasz (Hungary), Maria Rita Onofri (Italy), Olivier Petit-Helle (France), Alexandra Piras (Belgium), Silvia Ranza (Italy), Tommaso Sacco (Italy), Paola Semilia (Italy), Maria Carolina Terracciano (Italy), Rafa Tom (Canada), Stéphane Vereecken (Belgium), Rebecca Volkmann (USA), Horst Weber (Germany), Claudia Werth (Germany).
Art curators: Rossella Bellan, Giulia Mazzilli, Antonietta Panico