at the Medina Art Gallery, Via Angelo Poliziano, 32-34-36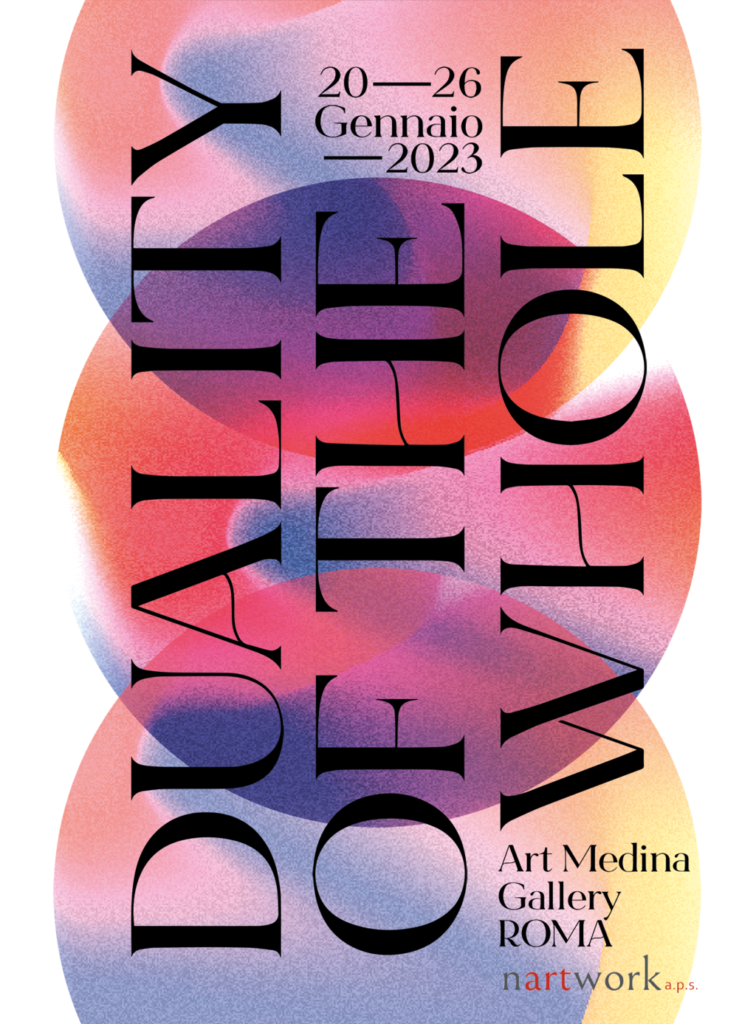 The international collective Duality of the whole, organized by Nartwork aps, took place from 20 to 26 January 2023 in Rome, at the Medina Art Gallery, Via Angelo Poliziano, 32-34-36.  
The collective welcomed the works of 39 artists from 18 countries and has received the moral patronage of the Culture Department of the Municipality of Rome, the Lazio Region, the Campania Region and the Suor Orsola Benincasa University of Naples.
The artists on display accepted the challenge of showing how form and non-form merge, how duality becomes whole and the apparently opposite parts hold up the unstable balance of the world and the dynamic development of history.
Thanks to the work of art, a new perspective is found for things: the interconnection of opposites that makes everything harmonious.
The exhibition's catalogue will also be distributed free of charge, with critical texts by Maria Aurelia Catalano Rossi  Danielli and Gianpasquale Greco. A small refreshment will follow.
The exhibition was enhanced and made interactive by QR Codes that collected the artists' thoughts and reflections.
Art curator: Rossella Bellan, Giulia Mazzilli, Antonietta Panico
Artists on display:
Marko Alabaster (United Kingdom), Marie Pierre Arpin (Germany), Yvonne Benasser (France),  Jaen-Marie Bidet (Switzerland), Agostino Caligiuri (Italy),Marta Carceller (Spain), Chamie Cheung (Hong Kong), Paul Delannée (France), Savas Deli (Germany), Elisa Dottori (Italy), Rika Maja Duevel (The Netherlands), Mario Formica (Italy), Lucrezia Giacometti (Italy), Kathrin Górczak (The Netherlands), Mihai Haita (Romania), Monika Hartl (Austria), Roger Iles (United Kingdom), Inushima (Japan), JBG (Italy), Rada Koleva-Genova (Italy), Manuel Langstadlinger (Austria), Lausen (Switzerland), Christina Mitterhuber (Austria), Valeria Morasso (Italy), Taro Mukai (Japan), Attila Olasz (Hungary), Weronika Raczynska (Poland), Sara Rashidi (Iran), Anke Riemenschneider (Germany), Veronika Sekotová (Czech Republic),
Sou (Japan), Soul Sparkles (USA), Maria Carolina  Terracciano (Italy), Maxim Timofeev (United Arab Emirates), Enrica  Toce (Italy), Marijana Vargić (Croatia), Rebecca Volkmann (USA), Horst Weber (Germany), Ivo Zibulla (Germany).