The group exhibition
Modern Transitions
took place from 31st October to 5th November 2020 at Spazio espositivo San Vidal in Campo San Zaccaria, Venice. The opening has been streamed on our social media pages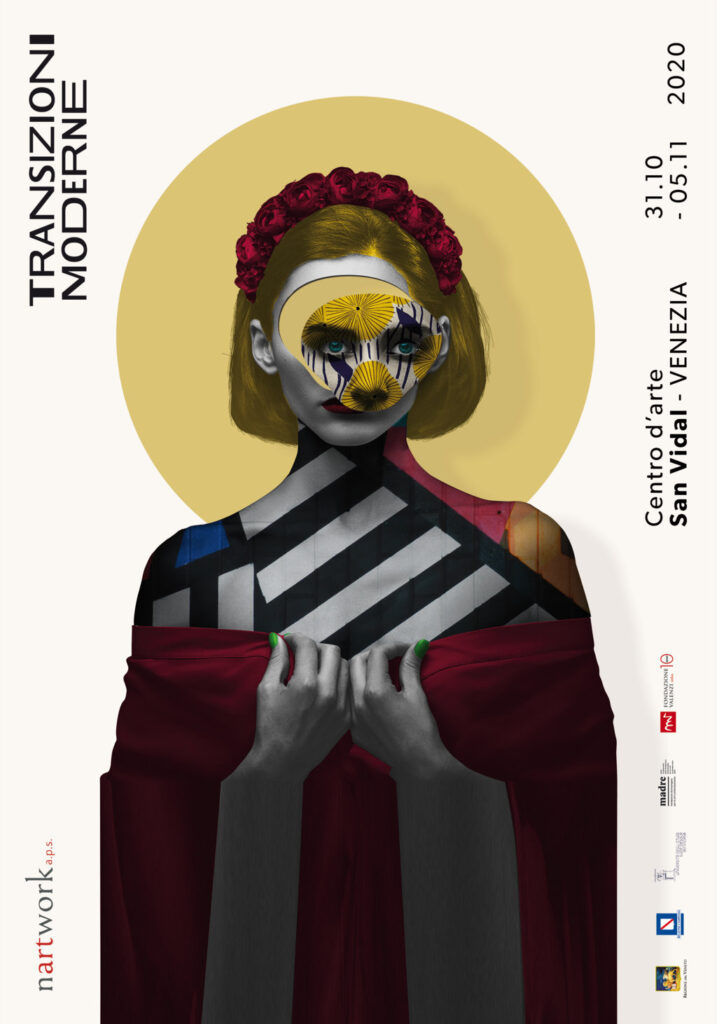 The Modern Transitions  exhibition investigated new cultural, literary and artistic concepts and productions through a selection of works by contemporary national and international artists. A broad cross-section of the new forms of contemporary expression that has exalted the originality and creativity of artists ready to explore roads not yet beaten in search of a new dialectic of art. A moment of rupture of the approximate pre-existing balance necessary to arrive at the creation of a new equilibrium.
The exhibition featured works by 28 contemporary artists from 11 countries.
The group exhibition received the patronage of the Fondazione Donnaregina per le arti contemporanee di Napoli (Museo Madre), Regione Campania,  Regione Veneto,  Università Suor Orsola Benincasa and the Fondazione Valenzi.
The group exhibition Modern Transitions took place from 31st October to 5th November 2020 at Centro d'Arte San Vidal in Campo San Zaccaria, Venice.
The opening has been streamed on our social media pages.
During the opening the art historians Cristiana Cordova and Gianpasquale Greco, authors of the contributions in the exhibition catalog, spoke.
Artists on display:
Marko Alabaster (United Kingdom), Brigitte Toffano Ali (France), Claudio Barbugli (Italy), Laura Bruno (Italy), Ekaterina Bureva (Israel), Caterina Caldora (Italy), Chiara Cinquemani (Italy), Alina Ciuciu (Italy), Paul Delannée (France), Raimund Denscherz (Austria), donPaco (Spain), Eivor Ewalds (Finland), Giulio Fantone (Italy), Marita Fernandez Barragan (Argentine), Mario Fior (Italy), Mario Formica (Italy), Waltraud Gemein (Germany), Monika Hartl (Austria), Margit Kainrath (Austria), Rada Koleva-Genova (Italy), Erich Kovar (Austria), Michel Marant (France), Errico Mellone (Italy), Mahdi Naas (Algeria), Attila Olasz (Hungary), Maria Rita Onofri (Italy), Salvatore Procida (Italy), Ariane Schuchardt (Germany), Brigitte Petra Sporer (Germany), Peter Woodburn (United Kingdom).
Art Curators: Rossella Bellan, Giulia Mazzilli, Antonietta Panico
Graphic design: Antonio Imparato
Set up project: Giulo Bellan
Art Historian: Cristiana Cordova and Gianpasquale Greco