On Friday 10 January 2020 at the exhibition hall of the Fondazione Valenzi, Maschio Angioino, took place the opening of the group exhibition Scandagli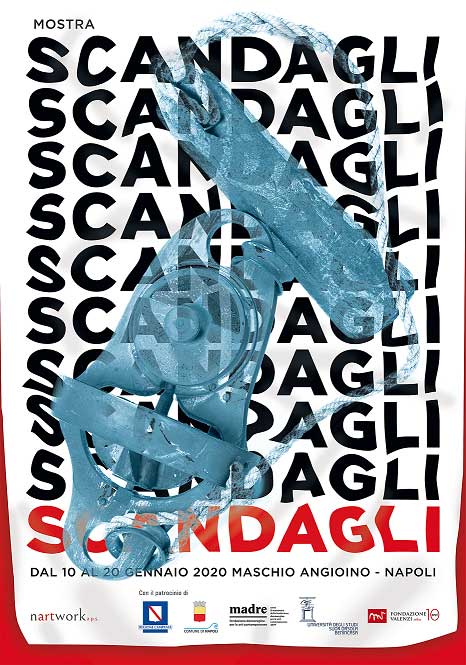 Scandagli exhibition took place from 10th to 20th January 2020, at the exhibition rooms of Fondazione Valenzi, inside Maschio Angioino,in Naples (Italy). The exhibition included the participation of 26 contemporary artists from 15 nations in order to provide a broad insight into contemporary art and culture.
The concept of the "Scandagli" exhibition wanted to enhance the originality and creativity of the artists by challenging them to tackle the theme of "research in art" as a personal artistic analysis.
The show received the patronage of the Fondazione Donnaregina per le arti contemporanee di Napoli (Museo Madre), Regione Campania, Comune di Napoli, Università Suor Orsola Benincasa and Fondazione Valenzi.
After the greetings by Lucia Valenzi, President of Fondazione Valenzi, Cristina Cordova and Gianpasquale Greco (art historians) and authors of the essays in the exhibition's catagues, had a debate on the theme of the show.
Artists on display:
Brigitte Ali (Francia), Ekaterina Art (Israele), Alina Ciuciu (Italia), Nicola Costanzo (Italia), Paul Delannée (Francia), Raimund Denscherz (Austria), Anna Di Maria (Italia), Eivor Ewalds (Finlandia), Marita Fernandez Barragan (Argentina), Mario Formica (Italia), Luibov Fridman (Russia), Monika Hartl (Austria), Elke Hubmann Kniely (Austria), Arne Johansen (Norvegia), Pia Kintrup (Germania), Rada Koleva-Genova (Bulgaria), Erich Kovar (Austria), Marta Melniczuk (Germania), Mahdi Naas (Algeria), Mouhamed Ndiaye (Senegal), Attila Olasz (Ungheria), Britta Ortiz (Danimarca), Gilda Pantuliano "Fluida" (Italia), Elin Steffensen (Danimarca), Peter Woodburn (Regno Unito), Ute Zeuschner (Germania).
Art Curators: Rossella Bellan, Giulia Mazzilli and Antonietta Panico.
Graphic Design: Antonio Imparato
Art Historian: Cristiana Cordova, Gianpasquale Greco
Exhibition project: Iolanda de Mari, Francesco Maria Stazio