The solo exhibition Contaminazioni took place in the exhibition rooms of Fondazione Valenzi in Maschio Angioino, Naples (Italy)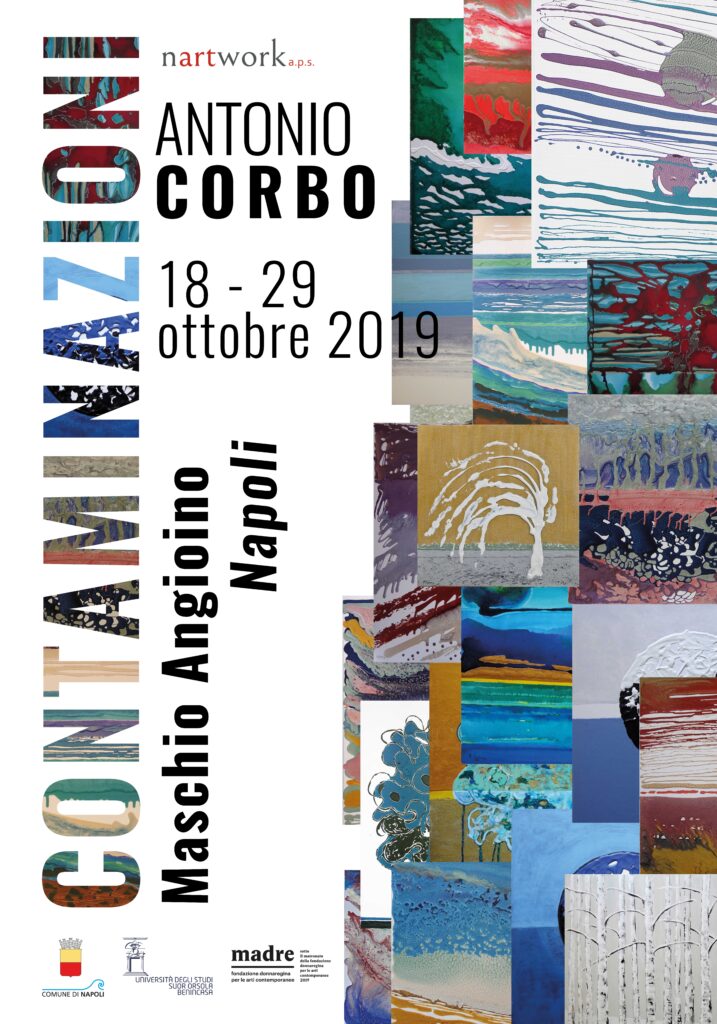 The exhibition offered the public a view of the artist's most recent works. Antonio Corbo's mature art is a harmonious and dialoguing combination of pictorial and poetic art, which is a demonstration of his artistic completeness.
The exhibition was enriched by his poetic verses, which contribute to complete the suggestive charm that distinguishes his work.
The exhibition received the patronage of Fondazione Donnaregina per le arti contemporanee di Napoli(Museo Madre), Comune di Napoli, Università Suor Orsola Benincasa, and the Fondazione Valenzi.
After the musical opening made by Carlo Contocalakis and the greetings from Prof. Lucia Valenzi, President of Fondazione Valenzi, the opening was followed a debate on the theme of the exhibition by the art historian Gianpasquale Greco. The exhibition's catalogues were been distributed for free during the whole time of the show and then archived in various national and international libraries and museums such as the Tate Gallery in London.
Contaminazoni exhibition took place from 18th to 29th October 2019
During the exhibition there were also guided tours thanks to the collaboration with the Liceo Braucci in Naples.
Art Curators: Rossella Bellan,Giulia Mazzilli and Antonietta Panico.
Music: Carlo Contocalakis
Art Historian : Gianpasquale Greco
Graphic designer: Antonio Imparato
Set-up project: Iolanda de Mari, Francesco Maria Stazio
Antonio Corbo has been born in Campobasso, the city where he leaves and works. Painter and poet, he started to operate during the 60s, and that is the moment that marks his consecration to art. His expressive language is free from the influences of the Post-Avanguardia, an independency that reflects on the contents as well, with a tendency to experimentation and research. In the first phase, he keeps on social and political topics expressed with incisive marks and emotional expressionism. In contrast, during the 80s and the 90s, he produced landscape and nudes. He refers always to Transavanguardia and Post-Modern. At the beginning of the new Millenium he started to work on abstractions, he is not anymore figurative and start to express reality through new material gestures. From nature to unknow worlds: the Big Bang and the cosmo are now the centers of is successful path. He started to picture galactic objects and primal life forms and are driving the observers beyond the two dimensions of the artwork. The union of painting and poetry characterizes all his shows from the 00s. His works have been exhibited in the biggest European cities and worldwide. He has participated in many events organized by Italian Cultural Institution. His works can be found in numerous private collectors and museums, both Italian and international. Countless the prizes and the awards he has received during his career.