presso Medina Art Gallery, Via Angelo Poliziano, 32-34-36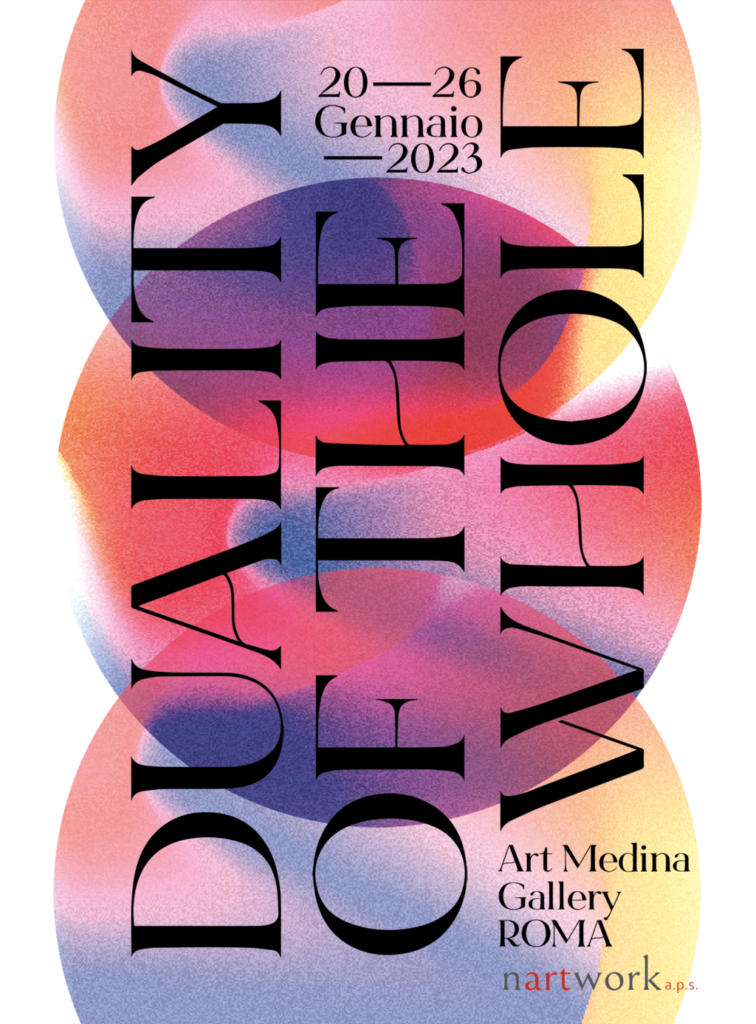 Si è svolta dal 20 al 26 gennaio 2023 a Roma, presso Medina Art Gallery, Via Angelo Poliziano, 32-34-36, la collettiva internazionale Duality of the whole organizzata da Nartwork aps.
La collettiva ha accolto le opere di 39 artisti da 18 nazioni ed ha ricevuto il patrocinio morale dell'Assessorato alla cultura del Comune di Roma, della Regione Lazio, della Regione Campania e dell'Università Suor Orsola Benincasa di Napoli.
Gli artisti in esposizione hanno accettato la sfida di mostrare come la forma e la non forma si fondono, come la dualità si fa intero e le parti, apparentemente opposte, reggono l'equilibrio instabile del mondo e lo sviluppo dinamico della storia.
Grazie all'opera d'arte si trova allora per le cose una nuova prospettiva: l'interconnessione degli opposti che rende armonico il tutto.
Nel cataogo dell'esposizione presenti i contributi critici degli storici dell'arte Maria Aurelia Catalano Rossi Doria e Gianpasquale Greco. Grafica di Antonio Imparato. Progetto allestitivo di Giulio Bellan.
La mostra è stata arricchita e resa interattiva da QR Code che hanno raccolto i pensieri e le riflessioni degli artisti.
Curatrici: Rossella Bellan, Giulia Mazzilli, Antonietta Panico
Artisti in mostra:
Marko Alabaster (Regno Unito), Marie Pierre Arpin (Germania), Yvonne Benasser (Francia), Jaen-Marie Bidet (Svizzera), Agostino Caligiuri (Italia), Marta Carceller (Spagna), Chamie Cheung (Hong Kong), Paul Delannée (Francia), Savas Deli (Germania), Elisa Dottori (Italia), Rika Maja Duevel (Paesi Bassi), Mario Formica (Italia), Lucrezia Giacometti (Italia), Kathrin Górczak (Paesi Bassi), Mihai Haita (Romania), Monika Hartl (Austria), Roger Iles (Regno Unito), Inushima (Giappone), JBG (Italia), Rada Koleva-Genova (Italia), Manuel Langstadlinger (Austria), Lausen (Svizzera), Christina Mitterhuber (Austria), Valeria Morasso (Italia), Taro Mukai (Giappone), Attila Olasz (Ungheria), Weronika Raczynska (Polonia), Sara Rashidi (Iran), Anke Riemenschneider (Germania), Veronika Sekotová (Repubblica Ceca),
Sou (Giappone), Soul Sparkles (USA), Maria Carolina Terracciano (Italia), Maxim Timofeev (Emirati Arabi), Enrica Toce (Italia), Marijana Vargić Petričušić (Croazia), Rebecca Volkmann (USA), Horst Weber (Germania), Ivo Zibulla (Germania).